T-GRID SUSPENSION SYSTEMS FOR FALSE CEILING TILES
Safe - Lock™ Tee-Grid Suspension Clip-In System D
Safe-Lock™ Tee-grid suspension systems from Security Aluminum Hellas SA are the ultimate solution for false ceiling construction with mineral fiber, metal or plaster tiles.
The Safe-Lock™ Tee-grid systems consist of Tee profiles and wall angles, made of high quality galvanized steel and painted parts that are pre-painted with furnace dried polyester paint for maximum endurance to time.
Safe-Lock™ Tee profiles System "D" with the antiseismic Clip In locking system offer maximum false ceiling frame resistance to seismic loads, maximum security and stability of connections and extremely high torsional strength due to the clip connection and grooved joint edge. Furthermore, they offer a perfect visual effect since the grooved joint is practically invisible.
Additionally, the Tee profiles have great fire resistance due to the special expansion slots on the Tee profile main runners, which significantly increase the fire resistance of the Tee-grid suspension.
Safe-Lock™ T-Grid System
The SAFE-LOCK™ Tee-Grid Suspension Systems are suitable for suspension of all types of false ceiling tiles and are composed of main and cross profiles whose base is made of galvanized steel while their visible side is covered with polyester paint furnace-dried galvanized steel strip.
Wall Angles made of paint galvanized steel are placed on the perimeter of the wall.
"CLIP IN" System 'D' Assembly - Disassembly
Construction and Assembly Instructions for Safe Lock™ Tee-Grid Suspension Systems
---

1. ASSEMBLY OF TEE PROFILES
We clip every Tee profile ALWAYS ON THE LEFT SIDE of the hole (slot) and hear the characteristic clicking sound. The blue Tee profile to the blue slot and the red Tee profile to the red slot.
2. DISASSEMBLY OF TEE PROFILES
A. NO tool needed.
B. We press our left thumb at the Tee profile end and at the same time with the right hand we hold against the thumb while pulling the Tee profile.

3. DISASSEMBLY OF MAIN RUNNERS
A. For the disassembly we use a fine-tipped screwdriver.
B. We place the screwdriver as in the drawing, on both sides of the guide connections to loosen the clip security.
C. Pulling with our hands we disassemble the main runners.
---
Safe - Lock Profiles & Rummers | T-Grid Suspension Systems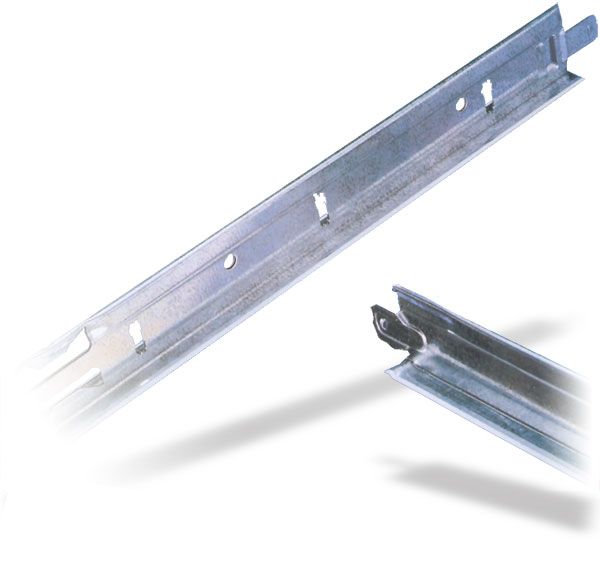 | | LENGTH | HEIGHT | TABLE |
| --- | --- | --- | --- |
| 24/38/3700 mm | 3700 | 38 | 24 |
| 15/38/3700 mm | 3700 | 38 | 15 |
| 24/38/1200 mm | 1200 | 38 | 24 |
| 24/30/1200 mm | 1200 | 30 | 24 |
| 15/38/1200 mm | 1200 | 38 | 15 |
| 24/38/600 mm | 600 | 38 | 24 |
| 24/28/600 mm | 600 | 28 | 24 |
| 15/38/600 mm | 600 | 38 | 15 |
MAIN RUNNERS
Standard 24/38
FineLine 15/38

Secondary Cross T-Profiles
Standard 24/38
FineLine 15/38

Secondary Cross T-Profiles
Economical 24/30
Economical 24/28